· Amid economic uncertainty, the total number of funding transactions to UK businesses is up by a third (30%)
· South East and East Midlands are securing the most finance, but Northern Ireland and West Midlands see highest annual growth
London, 24 May 2023: With the cost-of-living crisis and rising inflation rates reducing disposable income for households across the UK, businesses are once again navigating a challenging economic climate. Despite this, new research shows that businesses are prioritising investment to fuel growth – enquiries into funding have increased by a staggering 277% in the first quarter of 2023, compared with the same period last year. This has translated into decisive action from decision makers, with the total number of transactions up by almost a third (30%) and an 11% increase in the total amount funded compared with the first quarter of 2022.
The study, conducted by independent finance broker Charles & Dean, found that appetite for investment has increased throughout the UK. The data reveals that the South East is the most significant hotspot for asset finance investment, with enquiries in the region forming over a fifth (21%) of total enquiries in the UK. The most dramatic increases in investment, however, are in Northern Ireland and the West Midlands, which are leading the way in terms of year-on-year investment growth. The regions have seen increases of 500% and 467% respectively in the first quarter of 2023, compared with the same period last year.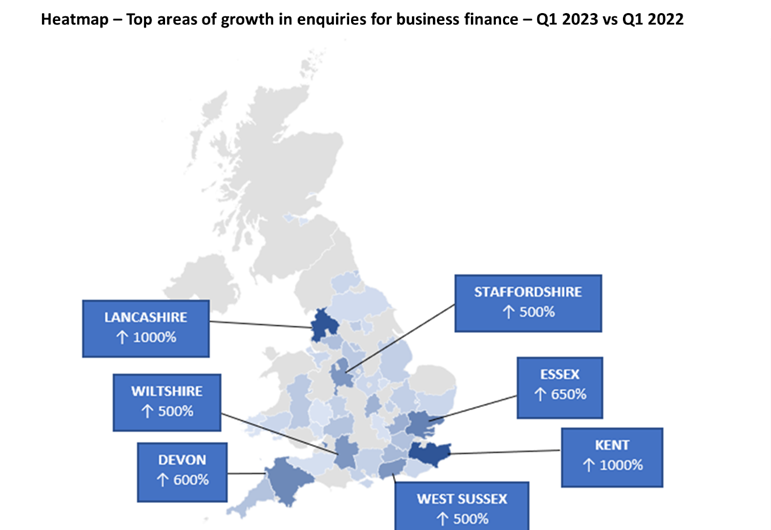 At a county level, the data demonstrates a similarly positive outlook. Areas showing the most significant growth include Lancashire and Kent, which have seen enquiries increase tenfold compared with Q1 2022, as well as Essex and Bristol, who have seen respective growth of 650% and 600%.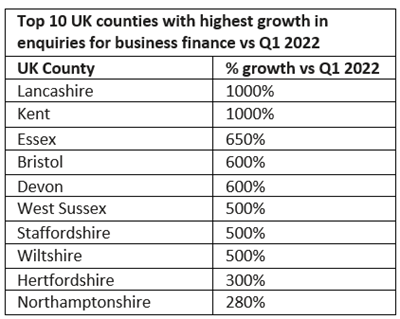 The findings show that a variety of sectors are exploring funding options; construction is displaying the most demand, with financial enquiries from the sector forming almost a third (31%) of all requests. Utilities and hospitality are leading the way in terms of growth, with the water supply, sewerage, waste management and remediation sector (1000%) and accommodation and food service industry (1000%) both seeing the greatest increases in finance enquiries compared to the first quarter of 2022. While UK SMEs are keen to increase investment across the board, the strongest areas of focus are plant and equipment and technology and software, which are identified as the highest-growth sectors.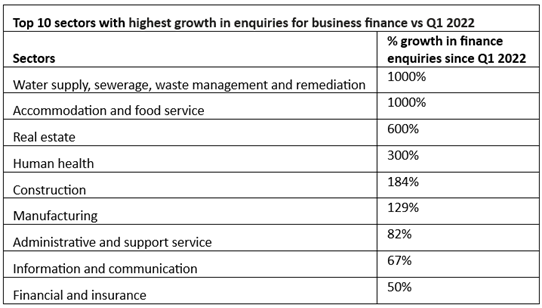 Tom Perkins, Director and Co-founder at Charles & Dean, commented:"Despite rising inflation and interest rates and decreased consumer spending brought about by the cost-of-living crisis, the attitude amongst UK SMEs is one of cautious optimism. Businesses are prepared to put their money where their mouths are to fuel growth, and there is a strong desire from entrepreneurs across the UK to explore alternative routes to accessing funding. Across the board, we are seeing a surge in interest in cash-based solutions, and we have onboarded new lenders onto our panel to meet this demand.
Where once the finance options available for businesses were limited to overdrafts and fixed-term loans, there are a whole host of new solutions that business owners are becoming increasingly curious about. It's heartening, too, to see this curiosity is translating into decisive action, which will help to ensure success in the long run.
As business owners continue to strive for growth alongside the backdrop of a turbulent economic climate, having access to a range of financial options will prove crucial to enabling them to fund their ambitions, kickstarting productivity and growth that will have a positive impact on the entire economy. SMEs that capitalise on the opportunities presented to them to grow their businesses, keep profits up, and even expand their market share stand themselves in good stead to gain a competitive advantage and thrive on a long-term basis."